We're providing better ways to help you build safer, more secure software -- on the biggest and best platforms.
Security Innovation is hard at work adding new courses, features, updates and interactive elements to help learners to be better prepared to help your organization meet tough security challenges lying ahead. Below are some of the highlights from the last quarter – along with a sneak peek at some of the new features coming down the pipe.
New Courses! Securing Applications built on the Google Cloud Platform

The Google Cloud Platform (GCP) has grown into the third largest cloud provider with a run rate of $11 billion(!) so far in 2021. They provide powerful infrastructure tools and services that span across the most innovative and growing technology categories.
In turn, Security Innovation is now offering brand-new courses on Securing Google Platform Applications and how to achieve DevSecOps in the Google Cloud. These courses will help enterprise organizations using GCP to apply best practices for organizational setup, migration, identity and access management, and more.
Updated Courses! Secure Enterprise Infrastructure Series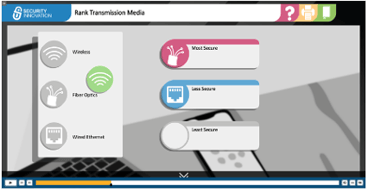 Example of Interactive Ranking:
"Which is considered most secure?"The Security Innovation course development team is working hard to bring more interactive elements to many of our existing training modules to increase engagement and provide a better experience for learners.
Courses Updated to date:
DES 214 Securing Infrastructure Architecture
DES 215 Defending Infrastructure
DES 216 Protecting Cloud Infrastructure
DES 218 Protecting Microservices, Containers, and Orchestration
ALL-NEW! Vulnerability Assessment Learning Labs (BETA)
The new Vulnerability Assessment Labs (now in BETA release) leverages "snippets" of CMD+CTRL Cyber Ranges to demonstrate real-world examples of software vulnerabilities. It provides a safe environment for learners to take what they have learned from their training courses and practice the skills needed to find and understand security threats used to gain unauthorized access into a system.
The three new Learning Labs we've started with provide an interactive learning environment that helps bridge the transition from simple knowledge building to real-world application. They feature security vulnerabilities associated with:
Cross-Site Scripting (XSS)
Broken Access Controls
Injection
Security misconfiguration and sensitive data exposure
These challenges provide the opportunity for learners to practice the application of skills and demonstrate their ability to perform tasks associated with their specific role in the organization.
New feature: CMD+CTRL Team Mode
A widely popular request for Team Mode is now available in the CMD+CTRL cyber ranges. Team Mode introduces a fun and competitive element to hacking by allowing cross-functional teams to share knowledge and work together as a unit to beat the competition.

Leaderboards, scoring, and detailed progress summaries all contribute to the competitive nature of the new Team Mode.
New feature: CMD+CTRL Learning Videos
Each of the CMD+CTRL cyber ranges now includes integrated pre-recorded video learning modules alongside each range. These videos include a combination of short 2-3 minute "quick tips" and longer 8+ minute conceptual videos that will equip players with the necessary security knowledge to perform well.
New feature: CMD+CTRL Digital Award Certificates
For players who would like to be recognized for their participation and outstanding performance in CMD+CTRL Cyber Ranges, this downloadable certificate is digital proof of their achievements. Players can also share the certificates on social media to generate public attention and record personal growth.
There are two types of certificates:
Participation Certificate: Awarded to every participant with points scored
Achievement Certificate: Awarded to Top 10 and Top 25 participants