If anything that the past few months have brought to light, it's that community is invaluable. It provides strength, growth, and opportunities that may not arise otherwise, while also occasionally providing an unexpected framework and support for growth. These attributes recently shone brightly in our Hot Dogs and Hacking event, where many skilled cybersecurity professionals productively guided and managed our growing Cyber Range community.
This rapid maturation of our community was great to see, but we truly were not surprised. Over two years, we have visited every OWASP chapter, ISSA meeting, and industry conference that would have us. And along the way, we answered hundreds of thoughtful questions, witnessed numerous "Aha!" moments, and helped improve cybersecurity education for thousands - yes, THOUSANDS - of people.
So when the world went into quarantine, we doubled our efforts. And it bore outstanding results.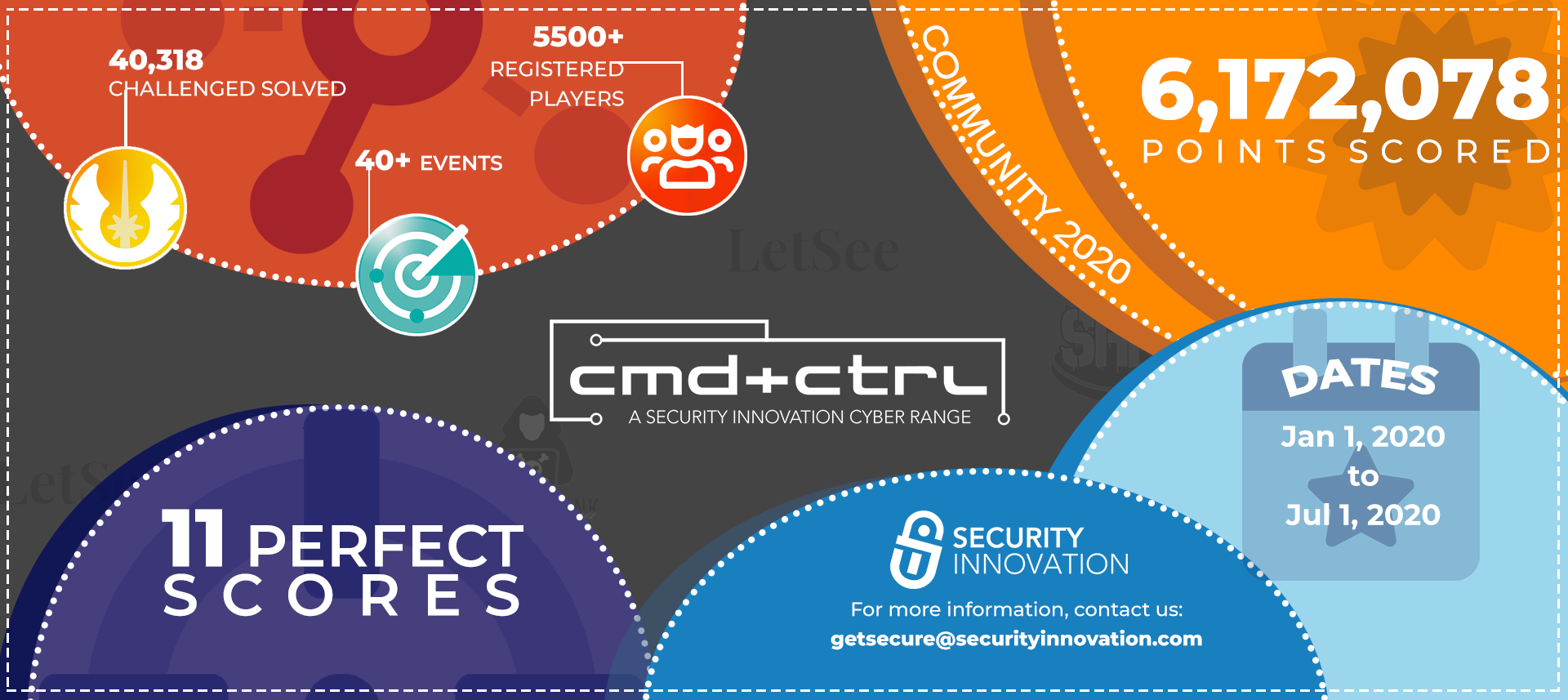 Events
In 2019 Security Innovation firmly committed to public training by running nearly 75 events. The positive feedback fueled our team to do even more, with almost 50 events in the first half of 2020 alone. Between our quarterly events, the rapid growth of interest in APAC, and industry phenomena like PancakesCon: Quarantine Edition, our team has delivered an average of two learning opportunities a week for six months - for free! Even better, it took us less than a week to fully shift to 100% remote events, providing dozens of chapters, groups, and conferences a low effort, highly engaging way to nurture their organizations in difficult times.
Interested in hosting an event? Get in touch with us!
People
Scheduling events is easy, but getting participants to show up is a bit more difficult. Convincing folks that there is a fun, engaging, and welcoming way to learn cybersecurity fundamentals can be tough, but it's a challenge we happily take on. And participants have made it clear that our efforts were worth it - well over 5,000 people registered for our events.
It's a number that both humbles and instills pride across the Security Innovation team, and we thank each of you for learning, hacking, and providing feedback to help make our Cyber Ranges even better.
Learning
If creating events is easy, and convincing people to attend is difficult, then providing a concise, helpful, and meaningful educational experience is the pinnacle of our efforts. Many attendees are interested in cybersecurity but don't quite know where to start. Their understanding of XSS, SQLi, OSINT, system architecture, vulnerable frameworks, and the dozens of other baseline topics for a career in this field typically falls closer to amateur than expert. In many cases, they *want* to learn, but resources and opportunities are limited and difficult to find. So when we ran the numbers and discovered that participants had solved 40,000 challenges while scoring 6 million points, we became ecstatic. Every challenge solved is a learning moment - one that our team is more than proud to have been a part of.
Community
Last year, we realized we have an abundance of resources for new cybersecurity learners. It was also made clear that our team faced the same challenges as other education providers - the need to better organize and deliver those resources to new learners. Cybersecurity is intimidating, but finding educational resources doesn't need to be. After much effort, our team came to a common-sense result: community.securityinnovation.com. Including introductory courses, individual stories, vital tools, and an always-on Cyber Range, our Community Site aims to provide the critical educational resources new learners need in an organized approach. Already, with little more than word of mouth, the site has educated nearly 10,000 users in under six months.
Adoption
A reality of building a community is the real costs behind it. Highly engaging and educational systems require people, infrastructure, and an acceptance to grow successfully. That said, we'd be remiss if we didn't thank our current and future users. They have provided the ideas, guidance, vision, and business cases that build the foundation of a successful community. If you've been impressed with our Cyber Ranges, please mention them to your friends and bosses - we're thankful to welcome the eyes of both!

The first half of 2020 has been "interesting times", and we are grateful that you, and our community, have spent some of that time with us. We can't wait to see where you lead us for the rest of 2020!