CMD+CTRL training can now include individual industry recognition for your employees:
Introducing the New SI-CSC Certification Program
Security Innovation has come a long way in two decades – in fact, we've just finished celebrating our 20th birthday in December. If you're curious, check out a few of our accomplishments over that time. We've helped hundreds of thousands of cybersecurity professionals build their knowledge and skills with our training program — first through classroom-style instruction and, more recently, online via CMD+CTRL.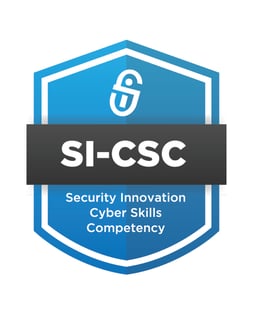 While our Cyber Range is well known, our courses are integral to our training program and available directly through our CMD+CTRL training platform. With bite-sized training modules, employees with limited time and resources can learn without an instructor onsite. Additionally, we added CMD+CTRL Labs to the platform last year, allowing employees to practice their newly acquired skills in a realistic, interactive environment.
The SI-CSC Certification Program
The CMD+CTRL training program is already recognized as an industry-leading software security training program for teams and organizations. Nevertheless, organizations could benefit from recognizing those who know the course material at a high level, as it makes it easy to identify employees with outstanding application security skills. This is where our new Security Innovation Cyber Skills Competencies (SI-CSC) certification program comes in.
SI-CSC certification is for all employees of the SDLC (not just developers) interested in advancing their careers. Everyone can utilize the SI-CSC program to gain the necessary software security skills and receive an industry-recognized certification for their proficiency. Managers also benefit, as their teams become incredibly motivated to learn new skills when a tangible, meaningful award is available at the end of the training.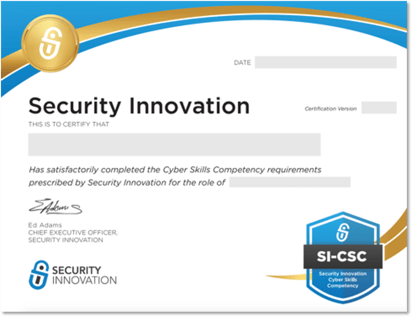 SI-CSC is available in several flavors, depending on the job role and level of experience.
At launch, it is available for over a dozen distinct roles, such as Application Security Analyst, Secure Software Developer, Secure Mobile Developer, and Secure Back-End Developer. The SI-CSC also ascends with Core, Advanced, and Elite difficulty levels. Each learner will receive a digital certificate that they can share on social media – and employers will receive reporting that clearly outlines each learner's progress.
To make administration easy, the learning and the tests are implemented entirely through CMD+CTRL Base Camp – the same platform many current customers already use. The tests can be taken independently of course completion, accommodating those who have previously passed the training or are already experts in their field. Best of all, the SI-CSC is the only certification backed by twenty years of industry expertise and at a fraction of the cost of similar certificates.
Are you interested in lowering your software risk while investing in your team? Set up a demo with us today, and we'll show you how SI-CSC Certifications complement a complete software security training program.
---
About Jason Shepard, Product Marketing Manager
Jason Shepard is a Product Marketing Manager at Security Innovation. A Seattle sports enthusiast, he considers the Mariners, Seahawks and University of Washington Huskies as his primary pastimes. He also drives Uber for fun on the weekends.