Boston Area Business Pays it Forward with a New Boston Tradition
The Cybersecurity Beanpot
We have a lot of long-standing traditions that started in Massachusetts – from Thanksgiving to Patriots Day to... the annual Beanpot Tournament, a popular ice hockey competition between four local colleges. As a lifelong Massachusetts resident, I'm one of the 7 million that make the state so competitive and committed to quality education. So what does a sport-craved, education-obsessed, competitive cybersecurity CEO like me do? I help my company launch the first Cybersecurity Beanpot Challenge, of course.
To honor its collegiate hockey counterpart, I figured the first cybersecurity Beanpot should include four competing universities, so I started with schools I have a personal connection to. I spent my first two-years of college at Northeastern University, transferred to UMass Lowell to complete my undergraduate degrees, and received my MBA from Boston College. Yet, Suffolk University was the only Massachusetts college to have me speak to their student body about cybersecurity.

Suffolk is the only school of the group that does not have a formal computer science or cybersecurity program but their enthusiasm was palpable. Suffolk recognizes the importance of cybersecurity in our digitally transformed world, and recently introduced it to their curricula. Suffolk even agreed to host our cybersecurity Beanpot event and serve as a primary sponsor to help drive participation.
3,000,000 + Unfilled Cybersecurity Jobs by 2021
The need for cybersecurity professionals is dire. CSO online; Cybersecurity Business Report, recently reported that there will be 3,500,000 unfilled jobs in the cybersecurity by 2021. Despite local cybersecurity firms than employ hundreds, like Rapid7, Carbon Black, RSA, Veracode, Security Innovation, and others, there's never been a time when so many security jobs were left unstaffed. Boston has long been a hotbed of innovative, high-tech companies who rely on the abundance of local talent, this cybersecurity crunch is not only being felt across the state, but across the whole country.
Promoting Interest in Cybersecurity to the Next Generation
Security Innovation is already working with organizations like ICMCP, BoSTEM, EWF, and WISP to promote cybersecurity in under-represented yet equally talented groups. Creating the Cybersecurity Beanpot Challenge was a natural next-step for us. In conjunction with Cybersecurity Insiders, we recently conducted a survey of more than 400 executives that revealed the lack of skilled personnel was the top reason they cannot adequately defend against cyberattacks. With 75-90 percent of attacks happening through software, our goal is to introduce cybersecurity "training" as fun and engaging for professionals and students who are interested in a career in the IT security field.
Let the Games Begin
For the Cybersecurity Beanpot Challenge, we gave students access to our online Computer Based Training (CBT) courses to help them prep for the event. The night of our live event, we used our website cyber range, ShadowBank, from our CMD+CTRL product. More than 80 Students competed over a 3-hour period to hack ShadowBank.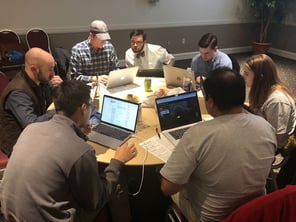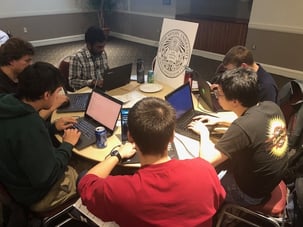 This simulated environment provides an authentic, hands-on learning experience for users to find vulnerabilities, score points, and move up the leaderboard.
The Beanpot challenge had an added dimension as players competed for the chance to win $10,000 in scholarships and other coveted prizes. To help guide students during game play, Security Innovation provided on-site SMEs (subject matter experts) to assist and conduct ad-hoc mini training sessions on relevant topics, such as SQL injection and cross-site scripting.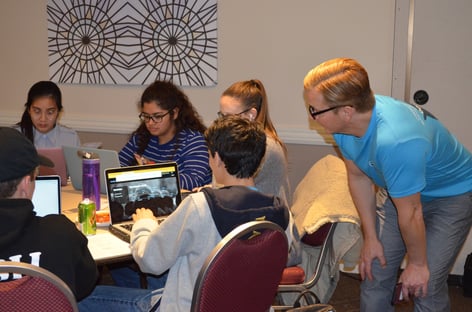 And The Winners are...
The first Cybersecurity Beanpot was a roaring success, and we're thrilled to see how many students competed. Impressively, 3 of the top 4 individual finishers were all from different schools. More impressive was Northeastern University earning first-place honors at both the individual and university level, a testament to the success of its newly launched Cybersecurity and Privacy Institute. The University will host the Cybersecurity Beanpot trophy on its campus until a new winner is crowned at the next event in Spring 2019.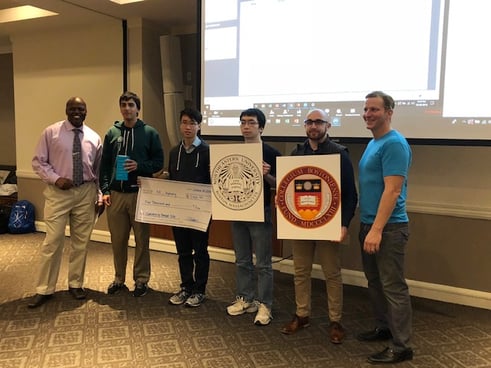 Next Cybersecurity Beanpot - Spring 2019
Security Innovation plans to continue partnering with Boston-area universities for future Cybersecurity Beanpot events, in hopes of building the region's reputation as a cybersecurity hub filled with highly skilled talent available to meet the growing needs of the marketplace. Stay tuned for details on future Beanpot events by checking in at www.securityinnovation.com or emailing cyberbeanpot@securityinnovation.com.